Wordless Wednesday
Friday I find out if I have to keep this up or if we are done or not! Part of me wants to keep getting them because it means I am pregnant the other part of me is done!
My Calendar looks CRAZY!
Last weekend we went home and of course Tyler's Pop Pop sent him home with Oreos and candy corn!
Our reasoning for going home was for my cousins wedding! It was great!!!
Tyler this week found a permanent sharpie and decorated hisself.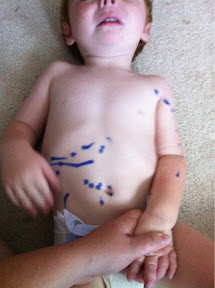 - Posted using BlogPress from my iPhone