Friday we had a Company Organizational Day. It was a great success! The guys cooked up hamburgers, brats, and hot dogs and we had all the fixings to go with them. I mad a sheet cake and we had lots of other desserts as well. We did a pie in the face auction to raise money for the FRG and refund the money spent on the day. We also set up ladder golf and horse shoes and had a slide, Little tikes basketball goal, and a huge basket with many different kinds of balls for the little kids to play with. The guys played soccer and football and at the end even played a real football game against each other. It was such a great day and so nice to meet a lot of new people in the company.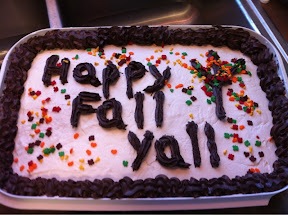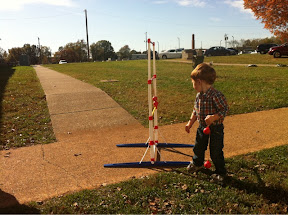 Friday night was Jon's Hail and Farewell from 1-33 Cav. It was on post at the Sportsmen Lodge. It was pretty nice. They had a room reserved and had set it up to be a Halloween Party. Bad thing no one had informed us that it was a costume party. Boo! I would have at least let Tyler wear his costume. Oh well! We set at the back with some of our friends. The food was okay, well some of it was not okay, but overall it was okay. We enjoyed talking with friends and Jon got a great new plaque with 1-33's colors on it and I got a red rose. We will truly miss being part of 1-33! They are a great Squadron!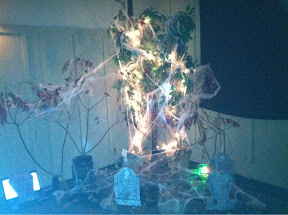 Friday, Tyler started having a pretty nasty cough and as the night came it got really bad. Jon and I were getting really worried and had decided we would take him to the doctor Saturday morning. Poor guy got a late bath Friday night in a good warm vapor bath before he got on the couch and fell asleep. He kept waking up and it took us till midnight before we could get him in his bed. Poor guy!
Saturday morning we all slept till 9:15. We woke up hearing Tyler giggling and that is when we realized what time it was and I rolled over and grabbed my phone and called his pediatrician's office. They told us he had a appointment at 10:00. We got ready in a hurry to say the least. They weighed Tyler when we got there and he is up to 29.4 pounds! Wow I can not believe how big he is getting. He is still in the 50th percentile for his weight! The doctor came in and checked him out. He loved opening his mouth and saying awww! So funny! He always sits so still for the doctor it amazes me! They diagnosed him with a bad head cold. The wheezing we are hearing is from his nose and his lungs sounded completely clear and his ears and throat looked perfect. They told us his cold takes about 10 days to run its course. Poor guy.
To add in to our weekend Jon had to get a Flu shot on Thursday and Friday he got sick. So I have to sick boys on my hands. I have a line of medicines to dose out! HA! So with Jon sick and Tyler we decided to head home after the doctors office and I cooked a breakfast for lunch. I made honey biscuits, sawmill gravy (from the Old Mill), Bacon, fried eggs and cheese grits. It was all so yummy. We watched football as we always do on Saturdays. That afternoon I fell asleep. So NOT normal for me and I took a 3 hour nap. Tyler napped as did Jon some also. Apparently I missed a major blowout diaper, thank goodness I missed out! I woke up in the middle of the Auburn game. My poor team did not play so hot. So many mistakes. I still am a AUBURN tiger and LOVE my team win or lose but man oh man do we need some practice! After the AU game we watched the Alabama vs LSU game. Tyler has become obsessed with Alabama football it is sad for me but his daddy is eating it up. He even learned Friday night how to say "roll tide". I could have cried! I will say it was very cute watching his eyes light up when he saw the players on the field in the same jersey as him. For dinner Jon grilled some steaks and I made fried rice, sauteed some shrimp and made Japanese white sauce. It was very good as well. Tyler loves steaks and white sauce. I made both of my boys take vapor baths again and we made sure Tyler's vaporizer was up and running (Ped. Dr. told us to do this for his breathing.).
Saturday night we had already realized we could not go to church on Sunday since Jon and Tyler were both sick. We slept in Sunday morning till 9:15 again! It felt great! Jon grabbed Tyler and brought him to our bed and we got some snuggle time and giggle time in! Love that! Jon's stomach was growling majorly so we got up and I made homemade cinnamon rolls and buttermilk biscuits and gravy. It was so good! Look for the recipe for the cinnamon rolls on Friday! After breakfast we bundled up and went for a walk in the neighborhood. It was fine when the wind was blowing behind us but when it was blowing at us we felt it was too much for Tyler so we headed back to the house. We played on his swing set for a little while before coming inside. I cleaned a little in the house while Jon and Tyler watched some cartoons and then some NFL football. Tyler went down for a nap and Jon and I relaxed on the couch until we got up for some snacks for lunch. Tyler soon joined us for some yummy snacks too. The rest of our Sunday has been chilled out and relaxing. I washed some dishes and Jon built the first fire in the fireplace. It was so fun! Tyler loved it. He did so good realizing it was hot and not to touch. Jon wanted chicken noodle soup for supper so I fixed that for us to eat. It was good comfort food the only thing I will say is I realize now why there are so many homemade chicken noodle recipes now. Campbell's has hardly any noodles in it. BOO! For dessert we made smores. We had such a great evening together relaxing, reading books next to the fire, and really just spending quality time together.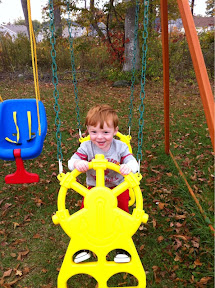 Hope you had a relaxing weekend like we did and please say a prayer that Tyler and Jon feel better really soon!