Okay so I have not blogged like I had hoped to during our month long vacation but I will catch you all up soon! I have lots of fun pics to post! It was a month of adventures.
Monday we drove 5 hours back to Tennessee with a packed car and towing the boat. It was not a bad trip at all other than Tyler was not digging his seat this trip and wanted out! Jon and I were both very excited to see our house and to be home. We have come to realize how much we love our family of 3 and spending time together just us! After unloading the car and letting Tyler run loose Jon decided he needed to cut the grass. So he went and filled up the gas can and cut the front yard.
He was so cute cutting the grass. I have never seen him cut grass before. At Ft. Bragg they had ground crews to do it. At Ft. Huachuca we had no grass, none. Our first house at Ft. Campbell the yard was HUGE and we needed a riding lawn mower, which we did not have so we hired someone. So when we rented this house it came with a push mower and we were very excited. Now we can save money on buying one and on paying someone to come and do it.
Today was Jon's first day back at work and boy did we miss him. I would be so happy if my hubby could stay home everyday! HA! Wouldn't that be nice? Oh well, back to reality. He had a good day and got to come home early. He washed his boat, I cleaned in the house some, organized Tyler's closet, pulled things he has outgrown out, then we needed to cut the back yard. So I told him I would do it. Funny thing is I have NEVER cut grass and NEVER had the desire to do so. Our back yard is bigger than I thought. I really enjoyed it though. It is a good workout and leaves you feeling accomplished. Jon used the weed eater and Tyler and Mocha played on the back deck.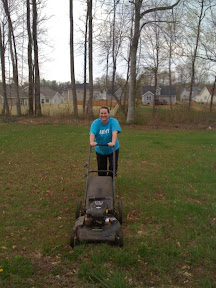 The saddest thing happened though while we were outside. A government car pulled up to one of neighbors homes and two soldiers dressed in their dress blues got out of the car. Any military person knows what this means and it broke my heart. She was not home, we have never actually seen anyone at the home. The two soldiers came over to ask me about the home and the family residing there. They said they were needed to get in tough with her. My heart broke and tears flowed. I knew what they had to say and they knew I knew. I am so thankful my husband made it home safe and sound and so thankful for all those that have paid the ultimate sacrifice and pray for their families daily.
After coming in and calming down I cooked dinner. I cooked Teriyaki Pork Tenderloin, Stir Fry Vegetables Sauteed, and cheddar biscuits. I also made croissants stuffed with Nutella and brown sugar. It was all so yummy. We all also settled in watching Dancing with the Stars. We had so much fun dancing with Tyler in our house. He loves all the fun, fast paced music! He also likes to be dipped. We have had a pretty good week so far!