Friday was payday activities day for the husband at work. He got to dress up in his blues with his jump boots. I LOVE when he wears that uniform. It is so handsome and I have to say I just love the jump boots! I have not seen them in a while so I really enjoyed seeing him all dressed up! Friday night we had friends come over to celebrate her birthday. It was a lot of fun and we had some yummy food!
The 1-33 Cav's Intelligence Soldiers (Jon is on far left)
Saturday morning we woke up by Tyler opening our bedroom door at 5:30 in the morning! He climbed in the bed with us and watched cartoons for a while. We decided to get up and get ready to take the boat out on the water. We all put on our swimsuits and sunscreen, hooked up the boat and Jon realized one of his batteries was low so we plugged it up. While we were waiting I made scrambled egg and cheese sandwiches and we all had breakfast together. Tyler ate his toast with a fork. It was very funny to watch. After loading up Jon wanted me to practice pulling the trailer. It was an experience and he made me so nervous that I ended up pulling over and making him drive. We got to the water, put the boat in, parked the jeep & trailer, and then loaded in the boat. Tyler got his new life jacket on and did not freak out! SUCCESS! This trip was already starting off good. Jon put it in drive and we were having so much fun riding down the water. Jon saw a good fishing spot on his fishfinder and we stopped. Tyler had so much fun casting his rod and reeling in. He was so cute and wanted to stand right by his daddy. Jon caught a good size blue catfish and it broke his rod. He was so sad but Tyler was excited and a little scared to see a real fish. He did touch its tail though. It was getting hot so we headed back loaded up the boat and headed home. When we got home we needed to cut the grass. I had trouble the lawnmower earlier in the week so Jon got it out to check on it and of course it gives him no trouble. I mowed the front yard again and then started the side yard and messed up on me again so Jon took it and I went and watched Tyler and made some lunch. Jon cut the back yard while I let Tyler play in his pool. After lunch Tyler needed a nap so we laid him down and then Jon and I washed the boat, the truck and rinsed off the jeep. They all look so much better! We were so hot but we both love the warm weather and soak it up as much as we can. We went in and rested for a little while then we picked up in the house a little.
Saturday night my parents drove in. Tyler took a late nap so he was up waiting on them. We grilled out some yummy steaks and all had dinner together. My dad brought up trigger for Tyler to play on. Trigger was a spring horse that I had when I was a little girl. He loves it and had a blast riding it. He also showed them how well he could slide into his pool at 8:30 at night! HA! He was so excited to see them! He also gave them lots of hugs, kisses and played chase with Pop Pop. He was also letting them hear all his new words.
Sunday morning Tyler got Pop Pop up at 5:30 and they played until 7 when we woke up. Good thing my dad wakes up early! Around 8 Jon, Pop Pop, and Tyler decided to hit the river and fish for a little while. They had fun but Tyler fell asleep on the boat so they headed home. I finished packing Tyler and I up while they were gone. We left at around lunchtime and headed back to Alabama. It is very hard for me to leave Jon at home. It is totally different than when he leaves me at home. We have only done it once before but man it is so hard. We had a pretty good drive home. Tyler had a whole bag of cookies and a whole bag of M&M's. He was not on as much of a sugar high as I thought he would. He played for a long time that night and then crashed.
Monday morning Jon got up early and went with one of his good friends and one of his friends buddies out fishing in Dover. He had a great time! He caught a ton of fish. The only bad thing was one of the guys got a fishing lure hooked in his shoulder. OUCH! I am so glad he got to have a great time out on his boat enjoying his day off.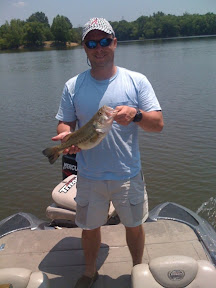 Monday morning at my parents house Tyler still woke up at 5:30 am! UGH! He did play and watch cartoons in my bed and let me snooze a little while longer. Thank goodness. When we got up Lolli was here. Then my Aunt Cricket came over and Tyler enjoyed showing off for her. We had breakfast and then my Nana came over to see him. He got sleepy while she was here and I did not think he would take a nap but I was wrong he slept 2 1/2 hours! GO TYLER GO! My mom and I made daisies for Candace and Phil's wedding cake. They are turning out so cute and that makes me so happy! For dinner Dad picked up Top of the River. It was so yummy! They have yummy friend catfish and the best fried dill pickles. Tyler enjoyed it as well. After dinner my dad took Tyler to the pool. He loved playing on the stairs of the pool and cried crocodile tears when he had to get out. He is in love with the pool! Then we called Jon and told him good night and off to bed Tyler went.