Happy Monday! I know most dread it and we do sometimes also, but lately Jon had been off on Monday so we are liking it.
Saturday morning Jon started out with a long run and then we had breakfast. We did not do very much. We got out all of our clothes for the beach and for our trip to LA. I started folding everything and also worked on laundry. We then realized we had WAY over packed. HA! Lunch time Jon grilled a few brats. Then we watched Little Fockers. (Not as funny as I thought it would be. We were a little disappointed.) We played chase with Tyler some. Also Jon cut out a airborne badge and air assault badge so we went to Hobby Lobby to get some paint. For Dinner we had some yummy pasta and then when Tyler went to bed we watched Marley and Me.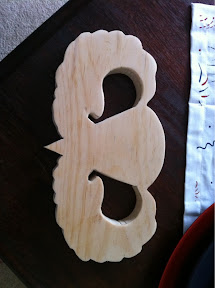 Note: Will never watch that movie again. It is a good movie and has a good storyline. But I cried for over 1/4 of that movie and then Mocha got to sleep in the bed on top of me all night. Yeah good movie first time but I prefer to never see it again.
Sunday morning we slept late for church. Boo! Tyler woke us up at 8:40. What is up with him only wanting to sleep in on Sunday mornings? He is up by 7 every other morning. We got up and Jon went for a run and I took a long relaxing shower. It was heavenly! We had breakfast together and then watched a little Word World. It rained almost all day and at one point was thundering so hard we had things shaking in the house. I am so over all the thunderstorms. While Tyler was napping Jon brought the suitcase downstairs and I laid all our clothes out and matched up outfits and refolded and repacked everything. I also pulled some clothes that we did not need. Our beach suitcase is totally packed and ready to go! We will live in T-shirts all week! HA! Tyler's bag is also sort of packed. All through out the day I would take a few minutes and paint on Jon's projects but the paint I got after 6 coats you could still see the wood. After Tyler's nap we went to Walmart to get silver spray paint and look at coolers. Tyler also got to ride the bicycles. He loves bicycles. We had dinner at Captain D's. It was very yummy and Tyler was a angel and ate good! When we got back we went for a walk and Tyler rode his tricycle Lolli and Pop Pop bought him. Overall we had a chilled relaxing weekend. We got a little done so this week will go smoother and we will be ready to leave Thursday.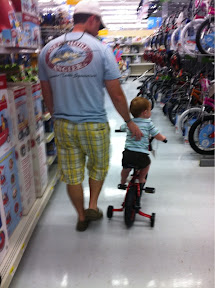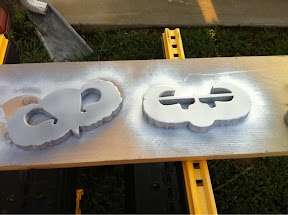 Hope you had a great weekend and have a great week!