Last weekend we worked very hard to finish cleaning out our garage. It felt so good to have everything put in its place. Awwww. We or I should say I cleaned out the refrigerator and freezer as well! GROSS! But it is all clean now! Thank goodness!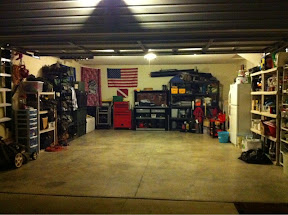 After getting it nice and clean we backed the boat in the garage to get it out of all the rain. Jon loves it in the garage now. He sits out in the garage and cleans it, plays with buttons on it, plays on the GPS/Fish-finder. Tyler loves getting in it as well and pushing buttons and blowing the horn. We also put Tyler's wooden Craftsmen tool table right outside the door so Tyler can easily get to it and play on it! So glad I found it before Christmas.
Inside the house we cleaned. We vacuumed, dusted, washed dishes, unloaded the dishwasher, washed sheets, changed bedding, cleaned guest bedroom, cleaned Tyler's room, did lots of laundry, all the normal routine. Yay for a clean house. Only thing left is my craft room! It is in desperate need of organization. I don't have the space to organize it like before so I am having a hard time. Another project we did was move our living room furniture around. It looks weird to some but is working for us. Tyler had been throwing his self into the fireplace and we were worried. Plus we both hated that our love seat was blocking off our room so we moved it in front of the fireplace. Our room is so much more open now and Tyler has more room to play downstairs.