Our Weekend in a nutshell!
We live pretty boring life but it is great to us.
Friday was my Birthday and it was great! I got so many nice cards in the mail and some fun presents in the mail so it was fun going to the mailbox. I also had a great day playing with Tyler and just relaxing at the house. It was also nice seeing my husbands smiling face when he came home. That night we had some friends coming over for dinner to celebrate the big 30! I baked homemade bread in my bread machine and homemade ice cream in our wonderful ice cream machine. My hubby grilled the best NY Strips I have ever tasted, a friend brought a yummy salad and another friend brought a ice cream cake. My favorite! It was from Baskin Robbins and it was so yummy! My new favorite brand! We had a great night and I am thankful for everyone!
Saturday morning we woke up with Tyler talking and playing in his room and stuck to our normal routine. I got up and got Tyler and put him in the bed with us and we turned on the Disney channel. He loves sitting between us watching his favorite cartoons. After some TV time Tyler loves to sit in the sink while we brush our teeth and do our morning routine. He is so funny! Then we headed downstairs and had some yummy chocolate chip pancakes and bacon.
Next we needed to fill up Jon's truck and his boat with gas so we loaded up and headed to on post because it was cheaper, way cheaper. While out on our adventure Tyler feel asleep in the car so we came home unloaded the boat, pushed it in the garage, and then headed to roam the mall. We put Tyler in his stroller and headed to Dick's sporting goods. He woke up from his nap and was in the best mood! He was talking to everyone and we were carrying on very non-understandable conversations! HA! We were starving so we ate lunch at Chick-fil-a. Love that place! When we were ordering we ran into one of my sister's old roommates from college and her husband. Pretty neat!
After lunch we shopped a little more and then headed home to get some play time in outside. Jon and I cut the grass, used the weed-eater, and cleaned up the sticks. Tyler drove his power wheels and helped cut the grass with his bubble blowing mower. Then Tyler needed a little nap and we rested too.
When he woke up we went for a run. I did couch to 5K week 1 day 3. It was HOT and I was struggling. I am getting really bad cramps in my calf muscles. Jon did it with me which was so nice to have someone to run with. We pushed Tyler in the jogging stroller and even let Mocha go with us too. I am hoping this running thing gets better! I am trying but legs are killing me.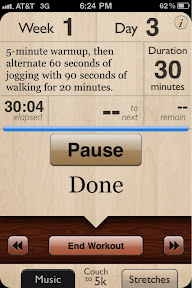 For Dinner I made a homemade pizza! It was great! I have not done homemade in a long time. I made the dough and the sauce from scratch and we added Canadian bacon and and mozzarella cheese. Tyler ate two large pieces which was a big deal for him and Jon and I ate the rest of the whole pizza! Yep that's right the 3 of us ate the whole pizza. We also watched a movie together before Jon went to bed super early so that he could get up early for his fishing tournament.
Today Jon was participating in a fishing tournament hosted by Austin Peay University. He had to get up a 2 am to get everything ready and get to there on time. He fished with one of his Army buddies. Tyler and I got up at 7 and got ready for church. Church starts at 8:30 and we got there at 8:15! So happy we actually got up and made it to church! It was a great service! They did a wonderful graduation service for all the seniors and they were interviewing a new music minister. He did a good job. The songs and message today was great. After church Tyler and I ran to Sam's picked up some lunch and came back home. He wanted to play outside as soon as we pulled in the driveway. So I let him drive his power wheels and pick up a few sticks. Then we came inside and ate lunch and it was time for a nap. Meanwhile Jon was fishing all morning. He called to check in and let me know he he caught a few fish but they were a inch to short and he lost a giant bass while trying to pull it into the boat. I was so sad for him. He also let us know he was still having engine trouble. Poor guy just can not get a break. He did say he had a great time and learned a lot! Tyler is still napping and so is Jon! HA! I am relaxing on the couch but need to go cook dinner! Hope you had a great weekend also!